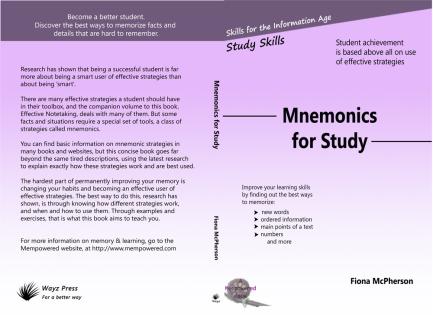 Note that this book has been updated! The 2nd edition is available here as an ebook and elsewhere as a paperback.
A successful student uses effective strategies

Being a successful student is far more about being a smart user of effective strategies than about being 'smart'. In fact it is possible to predict how well a student will do simply on the basis of their use of study strategies.
Mnemonics is one class of study strategy that is of proven effectiveness, but (like only too many effective strategies!) is used far too little. Despite many studies showing the effectiveness of mnemonic strategies, they remain the least frequently used formal memory aid used by students.
Perhaps the main reason for this is that their effectiveness is not intuitively obvious -- truly, no one really believes that these 'tricks' can so remarkably improve memory until they try them for themselves.
But while mnemonics do not help you understand your material, they do help you remember those many details you need to achieve expertise in a topic -- details such as the names of things, technical words, lists of principles.
Moreover, mnemonics can help you remember tags or labels that allow you to access clusters of meaningful information -- for example, headings of a speech or main points for exam essays. For both these reasons, mnemonics are a valuable assistance to building up expertise in a subject, as well as in helping you 'cram' for an exam.
This concise book covers
acronyms & acrostics
rhythm & rhyme
keyword strategies (including the face-name association method)
the story method
the loci or journey method
the pegword method
the link method
coding mnemonics
While you can find basic information on these various mnemonic strategies in many books and websites, Mnemonics for Study goes far beyond the same tired descriptions, using the latest research to explain exactly how these strategies work and are best used.

The hardest part of permanently improving your memory is changing your habits and becoming an effective user of effective strategies. The best way to do this, research has shown, is through understanding how different strategies work, and when and how to use them. Through examples and exercises, that is what this book aims to teach you.
Publication date: Feb, 2010
Number of pages: 164
ISBN: 9780987652201
1. INTRODUCTION TO MNEMONICS
What are mnemonics and what are they good for?
Why are mnemonics effective?
About imagery
Individual differences
Using imagery
PART I: SIMPLE VERBAL MNEMONICS
2. FIRST LETTER MNEMONICS
The two types of first-letter mnemonics
How to create effective first-letter mnemonics
Problems with first-letter mnemonics
When first-letter mnemonics are a good strategy to use, and when they're not
3. RHYTHM & RHYME
Some familiar mnemonic jingles
Singing to remember
Spoken rhythm
PART II KEYWORD STRATEGIES
4. THE KEYWORD METHOD
Some examples to practise
Creating good keywords
How effective is the keyword method?
Limitations of the keyword method
Remembering for the long term
Comparing the keyword mnemonic to other strategies
Tasks for which the keyword method is useful
Using the keyword mnemonic to remember gender
Non-European languages
5. EXTENSIONS OF THE KEYWORD METHOD
More than words
Applying the keyword method to text
The face-name mnemonic
Applying the face-name mnemonic to art & artists
Applying the face-name mnemonic to animals
Extending the mnemonic to taxonomic & attribute information
PART III LIST MNEMONICS
6. THE STORY METHOD
Examples
Remembering word lists
Remembering text
Pros & cons of the story method
7. THE PLACE METHOD
Using the place method
Some advice from antiquity
When to use the place method
8. THE PEGWORD MNEMONIC
Applying the pegword method
9. THE LINK METHOD
Effectiveness of the link method
PART IV ADVANCED MNEMONICS
10. CODING MNEMONICS
A system for remembering numbers
Extending the coding mnemonic with other mnemonics
Practical uses for coding mnemonics
Dealing with decimals
Retrieval
Other languages may work better!
Using the coding system to extend the pegword mnemonic
11. MASTERING MNEMONICS
What mnemonics are good for
Assessing the text and the task
Choosing the right strategy for the task
Choosing the strategies that are right for you
Successful strategies need practice
Summary of mnemonic strategies
REFERENCES
INDEX