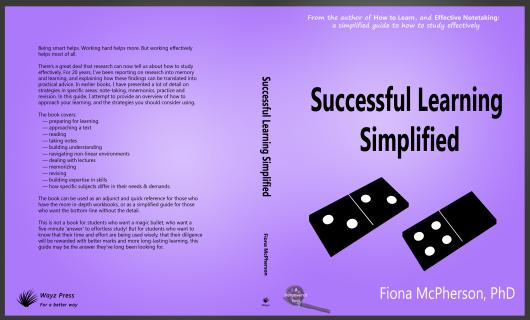 Being smart helps. Working hard helps more. But working effectively helps most of all.
There's a great deal that research can now tell us about how to study effectively. For 20 years, I've been reporting on research into memory and learning, and explaining how these findings can be translated into practical advice. In earlier books, I have presented a lot of detail on strategies in specific areas: note-taking, mnemonics, practice and revision. In this guide, I attempt to provide an overview of how to approach your learning, and the strategies you should consider using.
The book covers:
preparing for learning
approaching a text
reading
taking notes
building understanding
navigating non-linear environments
dealing with lectures
memorizing
revising
building expertise in skills
how specific subjects differ in their needs & demands.
The book can be used as an adjunct and quick reference for those who have the more in-depth workbooks, or as a simplified guide for those who want the bottom-line without the detail.
This is not a book for students who want a magic bullet, who want a five-minute 'answer' to effortless study! But students who want to know that their time and effort are being used wisely, that their diligence will be rewarded with better marks and more long-lasting learning, this guide may be the answer they've long been looking for.
Publication date: March, 2016
Number of pages: 224
ISBN: 9781927166192
About this book
Introduction
How memory works
The nature of long-term memory
The importance of working memory
What working memory is
A lot of editing goes on!
Review questions
Approaching your learning
Priming
Goal setting
Evaluating the text
The Relationship Of Ozone And Ultraviolet Radiation: Why Is Ozone So Important?
How blood flows
Early America
Introducing brain cells
Human Gene Affects Memory
Review questions
Getting an understanding of the text
Summaries
Types of summary
Topical summaries and overviews
Advance organizers
Skimming
Headings
Identifying text structure
Illustrations
Graphics
Checklist
Text
Main points
Review questions
Reading
Levels of processing
Active reading
Mental models
Reading expository texts
How narrative & expository texts differ
Approaching expository text as a novice
Active reading strategies
Main points
Review questions
Taking notes
Notetaking makes information meaningful
Highlighting
Creating summaries
How to deal with different types of text structure
Summarizing isn't just about the notes you take
Outlines and Graphic Organizers
More graphic organizers
Main points
Review questions
Learning through understanding
Understanding is rooted in the connections you make
Asking questions
Making comparisons
Analogies
Concept maps
Mind maps
What this means for notetaking
Review questions
Reading non-linear material (on the web or in computer modules)
Navigating a hypermedia environment
Problems & benefits of animations
How to learn effectively in hypermedia environments
Review questions
Getting the most out of lectures
How lecture notes are different from textbook notes
Are there special strategies for taking notes in lectures?
Different approaches to lecture notetaking
Main points
Review questions
Memorizing verbatim
Mnemonics
Vocabulary
Order
Words vs images
Rhythm & rhyme
Keyword method
First-letter mnemonics
Simple list mnemonics
Story or sentence mnemonic
Link mnemonic
More complex list mnemonics
Method of loci
Pegword mnemonic
Coding mnemonics
Main points
Review questions
Revising
Types of retrieval practice
Flashcards
Q & A
Re-summarizing
How often do you need to practice?
Spacing your practice
Spacing within your study session
Spacing between review sessions
The ten principles of effective practice
Review questions
Skills
Critical factors in mastering skills
The ten principles of effective skill practice
Review questions
Subjects
Reading
Mathematics
Science
Note-taking
Writing
Science report
History report
Philosophy essay
Understanding
Remembering
Foreign Languages
English literature
History
Mathematics
Science
Main points
Review questions
Putting it all together
Your toolbox
Glossary
Answers to Review Questions