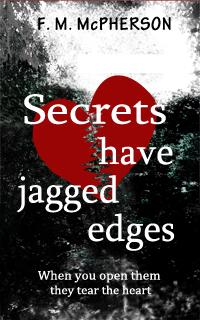 Secrets have jagged edges. When you open them, they tear the heart. 

And the secrets of families have the sharpest edge of all.
He's hearing voices and seeing terrible creatures in the shadows. Is Mike going crazy? Is he right to believe his father knows more than he's saying?
And if he is going crazy, what will happen to his best friend? He's the only one who knows Dave's secret. He's the only one Dave trusts.
But when the secrets come out, Mike doesn't remember how much Dave needs him.
A Young Adult coming-of-age novel, featuring two boys with very different secrets.
Publication date: November, 2005
File size: 262 pages (print); 0.6 MB (ePub); 4.9 MB (pdf)
ISBN:
978-1-927166-03-1 (pdf)
978-1-927166-02-4 (epub)
978-1-927166-9-4 (mobi)
This is a cleverly worked out, clearly written and believable story which will be read with relish by most fantasy and horror story addicts and even though I don't usually enjoy either of those genres, I too, was totally hooked into the story.

Barbara Murison, Around the Bookshops, February 2006.

 

the book grips the reader and builds outstanding tension with amazing skill. A roller coaster ride

Teenage reviewer, Around the Bookshops, February 2006.

 

Exceptionally well written from beginning to end, Secrets by F.M. McPherson is a gripping fantasy tale ... Deftly depicting the estranged life of the sixteen-year-old, Secrets carries readers through the gripping story of the young man, his father, and his only friend who has just as deep a secret as himself. An intricate novel ideal for those who enjoy mythic fantasy fiction, Secrets is very highly recommended reading.

Midwest Book Review

 

McPherson presents an original premise that is part Teen Wolf and part Fear Street, exploring the complexity of coming-of-age, fathers and sons, friendship, and trust.

VOYA (Voice of Youth Advocates)